Painter near me price range taken from our painting company list of costs contact page with table of painting specs
All Painting companies prices & costs Inc vat, no hidden fees or charges
We'll beat any painter cost cost by 10%. Painter price includes:
2 coats.
ceilings, walls, woodwork.
vat, no hidden fees or charges.
Supply all materials including paint.
We use all Dulux, Crown and Fleetwood
Painter Prices vary from location of a painter near me
To the quality of the painting company. The best painters will be booked up, so they can afford to charge more for better painting jobs
We recommend final payment to painter AFTER job is complete and you are happy with the job. We also recommend if the painting company offers any warranty, or guarantees along with their painting service, such as
1 year painter warranty or
Free painting touch up after a period of time
Before we start, Do you need a painter today?
We got lots and lots its true!
View painter near me image gallery
Painting Company Quotes & Price List Table
Scroll table left / right for full column list / prices
What do you need painted?
Task
Location
Additional Info
Painter Price Range €
2 storey house interior painted (2 bedroom, 2 batrooms, living room, hallway, landing)
Ceilings and wall
Glasnevin Park, Glasnevin, North Dublin 11
All white. I also need to paint skirting boards, 6 doors and banisters.
€2,200
2 bedrooms (just walls and ceiling, walls are preped for painting).
labour only, already have paint
Crumlin, South Dublin 12
€400 (€200 painter prices per room)
paint 2 bedrooms, average sized.
labour only, already have paint
Doyle Rd at Cork City

Walls are in good condition no repairs needed. No woodwork . 1 colour.
€600
2 storey house
labour only, already have paint
Doyle Rd at Cork City
ceiling and the walls, I'll provide the paint, walls are in good condition, no repairs needed. 2 bedrooms, 2 bathrooms, living room, hallway and landing. Please provide a quote for 2 options one with woodwork and one without . skirting boards, 6 doors and banisters.
€1,400 without painting woodwork.
€2,100 including painting woodwork
Painter An interior 3 bed house
labour + supply paint
Morell, Naas, Kildare
€2,500
Painter Exterior house
labour + supply paint
Farranavarra, Co. Cork
€1,200
Painting Companies price list correct as of Oct 2022
Cheapest painter price range €400
Highest painter near me €2,500 cost to paint a for a 3 bed house including walls, ceiling, woodwork, bannisters, doors, skirting boards
Average Window & Door Price €1,200 for a 3 bed house
Average Painter cost per m2 €7 – €14 (price range). Calculated as follows:
An average sized bedroom is 3 meters * 4 metres. Average height of a bedroom 2.5m. Area to paint: 3*4*2.5, total 30sqm. The cheapest price to paint a bedroom is €200, average cost to paint a bedroom is €400. Divide 200 by 30 and divide 400 by 30 to get the cheapest and average price range for a bedroom painter near me.
Read: electrical power outage or blackout. Here are some tips to keep warm in winter on a tight budget.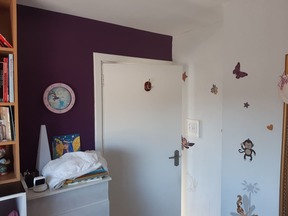 Painter Near Me
5 out of 5 from 991 reviews





Price Range:
€€
Average Painter Price €491.00
Min Price Range €291.00
Max Price Range €891.00
91 In stock
We beat any painter near me price price by 10%. No hidden fees or charges.
Fast, efficient painting service for our 3 bed house

– by

Tom

, August 1, 2022

"Quotege Painters went through everything before hand, colours, coats, wall paper, plastering. Everything went according to plan. We are delighted with the painting colours we picked out. We went for a third colour in the bedrooms so we supplied our own paint as we were informed before hand that only 2 colours were included, so we were fine with that."
Is this article worth sharing?
If you found this article helpful, please consider a review or a share!