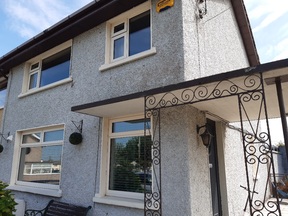 How much does it cost to supply and fit X9 UPVC Windows & x2 UPVC Doors?
Standard 3 bed house, Dublin West, 99 square metres, full removal and installation of Windows & Front Door…
Scroll down for completed image gallery with full window specs
View our windows & doors replace & install price range table
Before we start,
Window Installation Cost Includes
Cream colour windows inside & out, double glazed.
Grey Anthracite Composite Door With Viking Window, Letter Box
Double Patio Doors
3 Frosted Windows
Spectus Windows
Removal of all rubbish and old window and doors
The initial quote we received was €5,700.00.
However this was for a upvc door, all white, no frost. The quote was revised upwards to €9,000 to include the specs above. This was still a great price to install windows and door, as other quotes from windows companies were around the €12K mark.
Windows & Doors Companies With Showrooms Tend To Cost More
We have a list of windows and door showrooms in Dublin here. However they tend to charge more as, well the showroom doesn't run itself!
Recommended Reliable Window & Door Companies
I would have no hesitation in recommending Quotege for any window & door installation you may require. I have already recommended this service to a number of people.
I can testify that these windows & doors were installed in about 2 / 3 years ago, the job was completed on time and on budget and we have not looked back. The job was done in 5 working days. Since we upgraded from single glazed windows to double glazed, we increased our BER Cert rating from E to C1.
Numerous visitors continue to comment on how well the windows look!
Need Windows & Doors Prices Today? Visit Quotege.
Window Installers & Tradesmen, register for free on Quotege today!
Finished Job Complete Windows & Doors Installation Dublin